The train of weight loss programs, supplements, and gizmos will never end. One of these such gizmos is the "it works" weight loss wrap. Have I tried the "it works" wrap? Sure have. I will honestly say that I did like the results of the it works wrap but the price was a bit too much for me to sustain on a constant basis. The true program advises that you do the wrap a few times a week for best results and at $25 a wrap....it's a small fortune to wrap only one body area.
So...I decided to make my own weight loss wraps. I was pleasantly surprised that they WORKED! The cost per wrap on my homemade wraps were about $1 each and the best part was that I could wrap my ENTIRE BODY FOR JUST $1!!!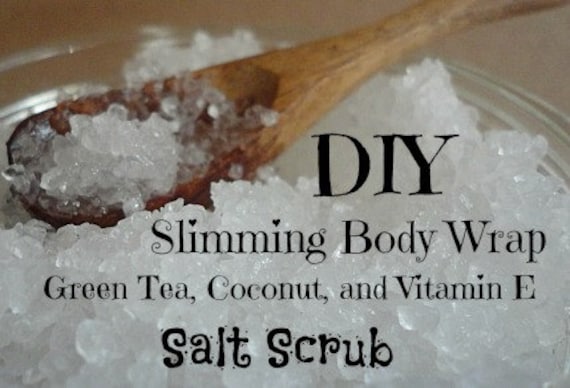 Here are two of my DIY body wrap recipes -
HERE
You can actually grab both the
Green Tea, Coconut, and Vitamin E Slimming Wrap Scrub from my Etsy SHOP for just $10.99
!
Also- check out the
Vanilla Latte Cellulite Busting Scrub
! Not only does it fight cellulite BUT it can also be used in a weightloss wrap!
With the success of these wraps...I wanted to step up my game and go for something with a bit more detoxing abilities and a bit more "luxury" appeal. This wrap is easy to make, ultra nourishing, and rivals those at pricey high-end salons and spas.
GREEN TEA DETOX & WEIGHT LOSS WRAP
Green tea is a powerful herb that is well known for its slimming properties, antioxidant values, and even for detoxing. The caffeine contained in green tea is also known to attack cellulite so this wrap is a win-win! This powerhouse along with the alkaline base of the mud and the salt works to draw impurities and excess water from the body. This wrap will take a few more minutes to make than my other versions but is definitely more in-line with those offered at pricey salons!
You will need:
Great clay - Only $5.50!
Instructions:
Bring the water to bowl in a large saucepan. Add salt and green tea powder and allow to dissolve.
Once the salt and tea are dissolved, add the clay and coconut oils.
Stir until well mixed
Allow to cool! I like to use it while it is still a bit warm.
Application Tips:
Drink a glass of water.
Take a hot shower and exfoliate the areas you will be treating. This warm water will help to open your pores and help the mud to go to work!
Apply the mud to your trouble zones. This can be a bit messy so it is best to apply in the bathtub!
Wrap these areas with saran wrap and then follow with ace bandage (or a girdle) to hold everything in place. This also helps to trap in the body's heat and activate the process.
Now...you can either relax or perform some light exercise. Some say that the more heat you create, the more excess water that is released from the body. I have done it both ways and agree. That being said, please do not go do a FULL ON CARDIO WORKOUT! Just light housework or a walk will do.
Stay wrapped for at least an hour.
Wash off the mud with warm water - do not exfoliate at this point.
Store any unused mud in a sealed container!
Enjoy your DIY Weight Loss Body Wrap!